neos, one of VRSNS, is a metaverse for a social VR platform developed by Solirax in the Czech Republic.
In the neos world, Studio Wakaba staff member miyuki created a "cafe" world from the Room Escape Game:CAFE AQUARIUM.
The world is being exhibited at Neos Festa4, a festival held by Japanese players from 7/29 to 8/31, 2022.
You can experience the world of Cafe -Aqua- (not an escape game) in VR space.
Please refer to the following website for the VR equipment and PC operating environment required to start NeosVR.
It does not work only with a VR-compatible HMD alone.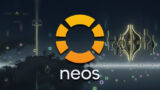 Neos VR on Steam
Welcome to the metaverse! A shared social universe where both casual users and creators coexist. Play and explore with your friends, collaborate with your cowor...